SCHOLARSHIP COMPETITION INFORMATION
Wichita State University invites select high school seniors to participate in the Distinguished Scholarship Invitational (DSI) in November 2020. This is one of the area's most prominent scholarship competitions, including three $64,000 Harry Gore Memorial Scholarships—three of the largest annual undergraduate scholarships in Kansas. While DSI is open to students of any major, click here to find information regarding competition requirements and additional scholarship opportunities.

IMPORTANT DEADLINES
OCTOBER 15 - Deadline for Admissions application
NOVEMBER 1 - Deadline for Scholarship Competitions application
DECEMBER 1 - FAFSA priority deadline
In-person competition timeline of events
DSI competition – Nov. 20-21, 2020

All students notified if they have moved on to be a semifinalist – by Friday, Dec. 4, 2020

Gore Core – a celebratory event for semifinalists – Saturday, Dec. 12, 2020

All semifinalists notified if they have been named a finalist – by Friday, Dec. 18, 2020

DSI Callbacks – Finalists return to campus for interviews with the Gore Scholar Selection Committee – Thursday, Jan. 21, 2021

Gore Scholar Announcement – Press conference announcing the three 2021 Gore Scholars – Friday, Jan. 29, 2021
VIRTUAL SCHOLARSHIP COMPETITION INFORMATION
New this year given the pandemic, the virtual option provides a safe way for students who have compromised immune systems, other health concerns, or those who are unable to travel to campus, an option to participate for a major scholarship at WSU. Students meeting the DSI requirements above received an invitation to compete in the DSI. Virtual competition participants must complete all required application materials AND select the DSI Virtual Competition option from the application by November 1. Applications will be reviewed and students will be notified if they are named semifinalists. Virtual competition participants do not need to log into a meeting until they are named a semifinalist. Meeting details will be shared with semifinalists when they are selected.

Virtual competition timeline of events
Review of applications – Nov. 1-30

All students notified if they have moved on to be a semifinalist – by Friday, Dec. 4, 2020

Semifinalist group interviews – virtual – Monday, Dec. 14

All semifinalists notified if they have been named a finalist – by Friday, Dec. 18, 2020

Virtual Competition Callbacks – Finalists conduct virtual interview with the selection committee – Friday, Jan. 14, 2021

Announcement of the recipient from the virtual competition – Late January / early February 2021
If you are interested in learning more about DSI, please contact the Office of Admissions at 316-978-3085 or dsi@wichita.edu.

We're excited to announce a shift in our freshmen merit scholarship program to accommodate the needs of students during the pandemic. We have extended our Freshman Merit Scholarship Deadline!
Seniors with a minimum 3.25 GPA and 22 ACT/1100 SAT can automatically qualify for a Freshmen Merit Scholarship! Get admitted to Wichita State by December 1 to guarantee qualifying for a merit scholarship!

Use the table below to determine for much a student can qualify! These values represent awards for students paying in-state or discounted tuition rates. For scholarship ranges for students paying full nonresident rates and other merit scholarship information, visit wichita.edu/scholarships.

Students who are not able to take the ACT/SAT by Dec. 1 should still plan to apply for admission by that date and will be admissible by their GPA. Students who provide a qualifying ACT/SAT score to Wichita State by March 1, 2021 - if they've been admitted by Dec. 1, 2020 - will be considered for Freshman Merit Scholarship eligibility.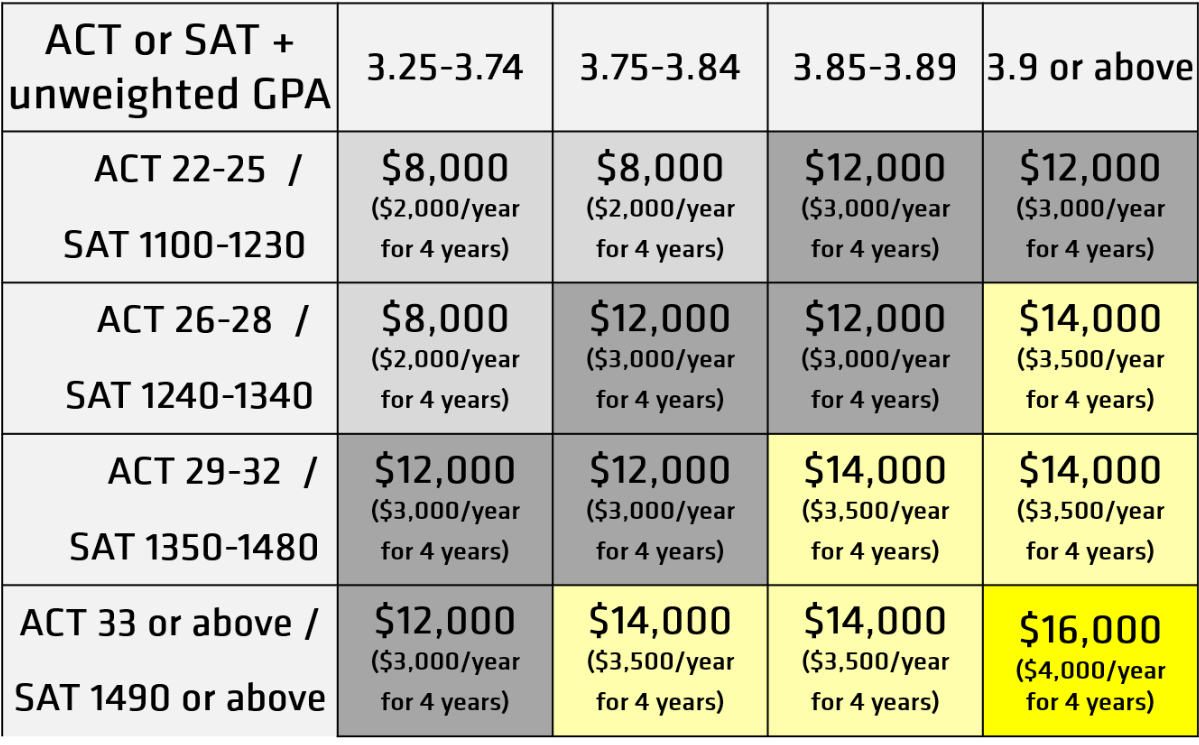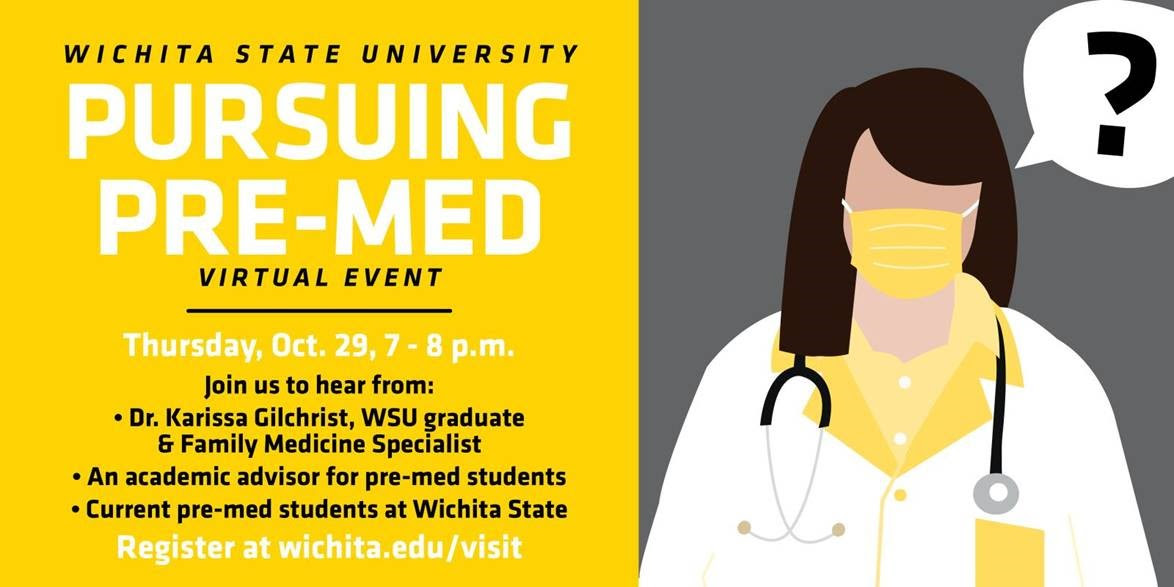 Students interested in pre-med are invited to join Admissions on Thursday, Oct. 29 at 7 p.m. for a virtual event that will answer many of their pre-med questions. During the event, prospective students will hear from Wichita State alum and former Student Ambassador, Dr. Karissa Gilchrist who now serves as a Family Medicine Specialist in Wichita. Nancy Krehbiel, academic advisor from the Liberal Arts & Sciences Advising Center, will be available to talk about what to expect as a pre-med student at Wichita State, and current Shocker pre-med students will give tips and advice to anyone thinking about a pre-med path. Encourage students to sign up at this link!

Questions can go to Erin Myers, visit experience coordinator, at erin.myers@wichita.edu.

Thursday, Nov. 5, 2020
7 to 8 p.m.

High school students and transfer students interested in areas of Engineering Technology are invited to join the College of Engineering and the Office of Admissions for this event focused specifically on Engineering Technology at Wichita State! Students who attend this virtual event will:
Learn more about the emphasis areas within Engineering Technology including - Civil Engineering Technology, Cybersecurity, Engineering Technology Management, Facilities Management and Mechatronics Technology

Hear from Wichita State College of Engineering faculty and staff

Gain a better understanding of what this degree program looks like and the jobs available to graduates in this degree
Questions? Contact Erin Myers, visit experience coordinator, at erin.myers@wichita.edu.

DIVERSITY LEADERSHIP SYMPOSIUM
The Office of Undergraduate Admissions and the Office of Diversity and Inclusion welcome students from diverse backgrounds to attend the Diversity Leadership Symposium on November 6! This virtual event is geared towards high school juniors and seniors and will allow prospective students the chance to learn about leadership opportunities, academic resources and hear about student life from current Wichita State students.

Questions can go to Anna Dixon at anna.dixon@wichita.edu.
» Click here to register for the Diversity Leadership Symposium

LINWOOD SEXTON SCHOLARSHIP INFORMATION WEBINAR
Thursday, November 12th 6:00 PM
Zoom (link to be sent with registration)

Join us to learn more about this full-ride scholarship geared toward minority students majoring in education or business! Gain insight about the Linwood Sexton Scholarship with perspective from Bobby Gandu, Assistant Vice President and Director of Admissions, and current Wichita State students and current Linwood Sexton Scholars and Shockers

If you are interested in learning more about the Linwood Sexton Scholarship Webinar, please contact Anna Dixon at anna.dixon@wichita.edu
» Click here to learn more about the Linwood Sexton Scholarship and apply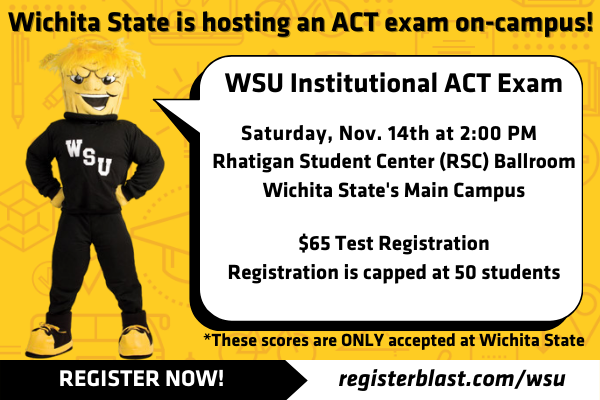 Wichita State understands the challenges with the pandemic and some students not being able to take a national ACT exam. The Office of Admissions is proud to partner with the WSU Testing Center to provide an opportunity for 50 students to join us on Saturday, November 14 at 2:00 pm for an Institutional ACT exam at Wichita State. Cost is $65 and registration is available on a first-come, first-served basis; ACT fee waivers and credits cannot be used for this exam. The scores students achieve through the WSU Institutional ACT exam can only be used for purposes of admission and scholarship consideration at Wichita State. Students taking this exam will have their ACT score considered in advance of the Dec. 1 deadline for WSU Freshmen Merit Scholarships.
» Click here to register for the Institutional ACT
HIGH SCHOOL GUESTS AND EARLY GRADUATE STUDENTS
HIGH SCHOOL GUESTS
If you have any high school students who will be finishing their course work early and will still have an anticipated graduation date of May 2021 listed on their transcript, can become High School Guests at Wichita State! The high school guest program offers a special opportunity for academically talented high school students to take college courses at WSU before high school graduation and earn full college credit. Students can apply to be a non-degree bound high school guest student at: www.wichita.edu/apply. Non-degree bound students do NOT qualify for federal financial aid during the spring of 2021.

EARLY HIGH SCHOOL GRADUATES
If you have a high school student who will graduate mid-year (December 2020) and wants to take classes at Wichita State starting Spring 2021, you will need to fill out our Early Graduate Release Form. Students who have an Early Graduate Release Form on file with a transcript or written letter from the school with their gradation date showing December 2020, can apply to be a degree-bound freshman starting Spring 2021. Students can apply to be a freshman student at: www.wichita.edu/apply. Degree bound students DO qualify for federal financial aid during the spring of 2021.
» Get started on a Freshman or High School Guest application